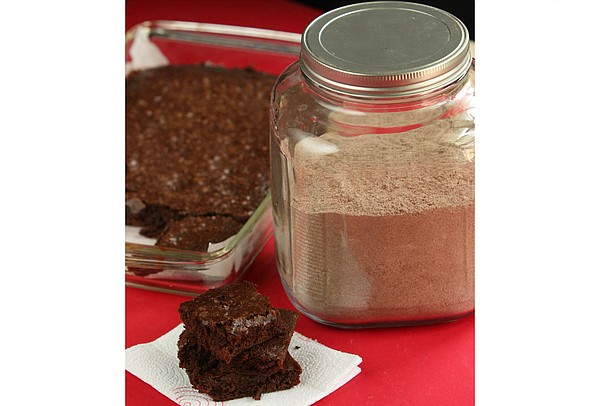 Mixes to prepare in advance for ready-to-give Kats
Make-ahead mixes save a tremendous amount of time and money in the kitchen, and when packaged in pretty boxes, make great gifts.
This brownie mix was a staple in our house when I was growing up. My dad, who turned 79 two weeks ago, asked for these brownies in place of the cake.
The recipe easily doubles if you have a bowl large enough for mixing it and a suitable container for storage. The recipe is adapted from "Make-a-Mix Cookery" by Karine Eliason, Nevada Harward and Madeline Westover.
Brownie mix
3 cups all-purpose flour
2 teaspoons of yeast
2 teaspoons of salt
4 cups of granulated sugar
1 cup unsweetened cocoa powder
1 cup of vegetable shortening
In a very large bowl, sift together the flour, baking powder and salt. Add the sugar and cocoa. Using a pastry blender, cut shortening, stirring, until evenly distributed. Transfer the mixture to a large airtight container and store in a cool, dry place. To be used within 3 months.
Makes about 9 cups or enough for 4 sets of brownies.
To bake: Heat the oven to 350 degrees. Butter and flour an 8-inch square baking dish; put aside.
In a large bowl, combine 2 lightly beaten eggs, ¼ cup of milk, 2 teaspoons of vanilla extract and 2 ½ cups of brownie mix. Stir until smooth. Stir in ½ cup of chopped nuts, chocolate chips, canned fruit or other supplement, if desired. Spread the mixture in the prepared pan. Bake for 30 to 35 minutes or until edges separate from pan. Let cool and cut into 2 inch bars.
■ ■ ■
Hot cocoa mix
2 cups of icing sugar (see note)
1 cup unsweetened cocoa powder
2 ½ cups of skimmed milk powder (see note)
1 teaspoon of salt
2 teaspoons of cornstarch
Up to 2 teaspoons of vanilla powder, optional
1 to 2 teaspoons ground cinnamon, optional
Mini chocolate chips and / or miniature marshmallows, optional
Add all the ingredients and mix them well. Store in an airtight container for up to 1 year.
To prepare: place about 2 tablespoons of mixture in the bottom of a mug and add about ¼ cup of hot water or hot milk and stir to dissolve, then fill the mug with more hot water or hot milk.
Makes about 5 ½ cups of the mixture or enough for about 30 servings.
Note: For a richer hot chocolate, replace some of the icing sugar and skimmed milk powder with coffee cream powder.
Send your contributions, requests and culinary questions by email to: [email protected]