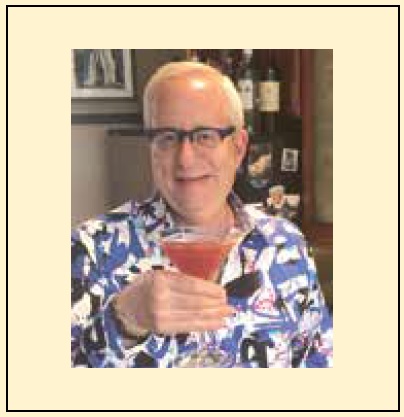 Vacation: A Moment for the Family – San Francisco Bay Times
By David Landis–
Whether it's Kwanzaa, Hanukkah, Christmas, New Years, or whatever floats on your boat, the holidays are not just religious or cultural, but truly a chance to celebrate family.
So, what better way to share the holidays with my loyal readers than to share the recipes of three generations of the Landis family. (One was actually a 'Talandis' from Lithuania whose name was changed to Ellis Island, but that's another story for another time.)
To celebrate, I asked my dear sister Kate Landis (who happens to be a great cook in her own right) for some family vacation recipes. I offer the following delicious desserts from our Lithuanian, Austrian and American parents: Grandmother Ona (Anna) Landis (originally Talandis), my paternal grandmother from Lithuania; Catherine Krater, my maternal grandmother of Austrian origin; my American mother, LaVerne Shirley Landis; and my sister Kate. Kate gets all the credit since she's still here. My other holiday hope is that my two grandmothers and my mother will smile wherever they are, knowing that their recipes endure.
Grandmother Landis' Krustries
According to her sister Kate, "I actually have memories of doing this with Grandma Landis. She was always afraid that we would burn ourselves!
2 eggs
1 ½ cup of flour
1 teaspoon of whiskey
2 ½ tablespoons of butter
1 teaspoon of sugar
½ teaspoon of vanilla
Mix all ingredients. Knead well until the dough no longer sticks. Roll up in plastic wrap and let stand 10 minutes. Roll out thin paper on a floured surface. Cut into 1 ½ "x 3" rectangles. Cut a slit in the middle — turn halfway to twist. Fry a few at a time until lightly browned. Once cooled, sprinkle them with powdered sugar.
Grandma Krater's Kolacki
As The Gay Gourmet attests, "We ate the jam inside first!"
8 ounces of cream cheese
2 sticks of butter
2 cups of flour
1 can of Solo filling (apricot, prune or raspberry)
Granulated sugar
Preheat the oven to 350º. Soften the butter, mix with the cream cheese and flour. Roll out the dough to 1/8 "thick. Cut 2 inch squares. Fill with ½ teaspoon of filling. Fold two cat corners in the center so that the filling appears on both sides. You can also cut into circles and place filling in center "thumbprint. Bake 10 to 15 minutes. Cool. Sprinkle powdered sugar on top.
LaVerne Shirley Landis Christmas Wreath Cookies
Kate says, "It takes a lot of work, but these are wonderful little bites that look like wreaths. A recipe makes between 32 and 36 cookies.
½ pound of butter
3 cups of flour
Seedless raspberry jam
Diced red and green cherries
3 egg yolks
½ cup) sugar
ground pistachios or, alternatively, green sugar
Preheat the oven to 350º. Creamy sugar and egg yolks. Work the flour and butter like a pie crust. To mix together. Roll out like a pie crust. If too dry, add a little egg white. Cut into shapes with a shot glass and a thimble (or cookie cutters of equal size). Place the cookie bottoms on one baking sheet and the tops on the other in case the tops cook faster. Roll to a thickness of 1 / 6th of an inch and cut with 2 "round and ¾" round. Beat the egg whites. Brush tops of cookies and decorate to resemble wreaths of cherries and green walnuts. Cook for about 13 minutes, but watch carefully. Wash cookie sheets before reuse to remove any pistachio or cookie residue. Assemble after cooking with raspberry jam between the bottom and the top.
Kate Landis' Nanaimo bars
Kate explains that this is "a later addition to our family cookbook, made after our boys graduated from high school." It's an all-time favorite. You can make a batch, eat a few, freeze in small batches, then go out for a midsummer feast. There are a number of stories about the origin of this cookie. He is believed to be from Nanaimo, British Columbia (hence his name), and he gained popularity in the 1950s. Whatever his background, we love him. We've added a touch of peanut butter to create a simple, delicious, no-bake bar cookie that's perfect for kids.
Biscuit:
1/2 cup (1 stick) unsalted butter
1/4 cup sugar
1/3 cup cocoa
1 large egg, beaten
1 3/4 cups graham cracker crumbs
1 cup grated sweetened coconut
1/2 cup finely chopped shelled almonds
Peanut Butter Filling:
1/3 cup unsalted butter, softened
1/3 cup peanut butter
1/2 cup icing sugar
Chocolate icing:
4 ounces of semi-sweet chocolate, chopped
2 tablespoons of unsalted butter
Line an 8-inch by 8-inch pan or pan with foil, with long flaps hanging over each edge.
For the cookie: Place the butter in a medium heatproof bowl. Bring a saucepan filled with about an inch of water to a very slow boil over medium-low heat. Place the bowl on the water, but without touching it. Once the butter has melted, add the sugar and cocoa and mix. Add the egg and cook, stirring constantly with a whisk, until warm to the touch and slightly thickened (it should be about the consistency of hot fudge), about 6 minutes. Remove from the heat and stir in the graham cracker crumbs, coconut and walnuts. Press the dough firmly into the prepared pan. Keep the pot of water to melt the chocolate.
For the Topping: Beat butter, peanut butter and icing sugar together in medium bowl with electric mixer until fluffy. Spread over cookie and freeze while you prepare chocolate frosting.
For the Frosting: Place chocolate and butter in a medium heatproof bowl and place over barely simmering water. Stir occasionally until melted and smooth. Remove from the heat and let cool slightly. (You can also put chocolate and butter in a medium microwave-safe bowl. Melt on 50% microwave power until tender, about 1 minute. Stir and continue heating. until completely melted, about 1 minute longer.) still runny, pour the chocolate layer over the cooled peanut butter layer and gently smooth with an angled spatula. Freeze for 30 minutes. To serve, remove from freezer and let stand at room temperature for 5 minutes. Remove from pan using aluminum flaps and transfer to a cutting board. Cut into 1-inch squares with a sharp knife. Serve chilled or at room temperature.
Busy Baker's Tips: Finished bars can be wrapped in the mold in plastic wrap, then covered with foil and frozen for up to 1 month.
Holiday pieces
Here are some recent gift ideas for the holidays for the gourmets of your family:
Mr. Expresso offers "Espresso d'Italia", a coffee break in a boxed set. It contains three bags of Mr. Espresso coffee, an assortment of Condorelli Italian chocolates and an elegant six-cup Moka black pot.
Canela, the favorite of spanish tapas in the Castro, is planning an event "our home is your home" – a tapas tasting menu for New Years Eve with a pairing option. The size of the party is a maximum of 5 people. Dining room only.
Local favorite TCHO chocolate offers gift boxes that are sure to please the end of the year family celebrations.
Boxxle is a must-have for wine lovers, like The Gay Gourmet! This stylish bag-in-a-box device creates wine on tap at home. The dispenser can hold up to four bottles of wine or one boxed wine. It uses new technology to dispense wine, enhancing the experience both by providing a convenient and attractive (just one press of a button) way to pour boxed wine and by placing the tap over the rim of the glass. for easy distribution. Boxxle will keep your wine fresh for up to a month if you don't finish it all in one go. It also prevents oxidation, which eliminates spoiled wine.
Meat craftsmen salamis, cold cuts and sausages are made for deli lovers everywhere. The company uses high-quality meats, many of which are locally sourced and produced in small batches, along with fresh spices, herbs and seasonal blends designed to bring out unique and complex, yet subtle flavors.
This holiday season, handcrafted and locally owned Johnny donuts offers a box of holiday donuts for $ 60, which includes a dozen pre-made to order, wrapped in gold ribbon. The box includes seasonal exclusives like Apple Pie Bismarks and Wild Berry Bismarks, plus 8 other assorted flavors.
Mr. Expresso: https://mrespresso.com/
Canela: https://canelasf.com/
TCHO chocolate: https://tcho.com/
Box : https://boxxle.com/
Meat craftsmen: https://www.meatcrafters.com
Johnny Donuts: https://www.johnnydoughnuts.com/
David Landis, aka "The Gay Gourmet", is a retired foodie, freelance writer and public relations expert. Follow him on Instagram @GayGourmetSF or send him an email at: [email protected] Or visit him online at: www.gaygourmetsf.com
Posted on December 2, 2021